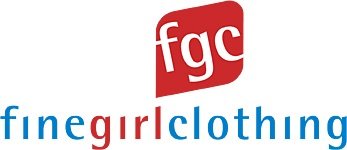 Here at Fine Girl Clothing we do so many different repairs and original creations. Check out what we have done so far!
Need a repair or original creation? Come by the store with your ideas and let's see what we can create together!
February 28, 2015 ~ The luck of the Irish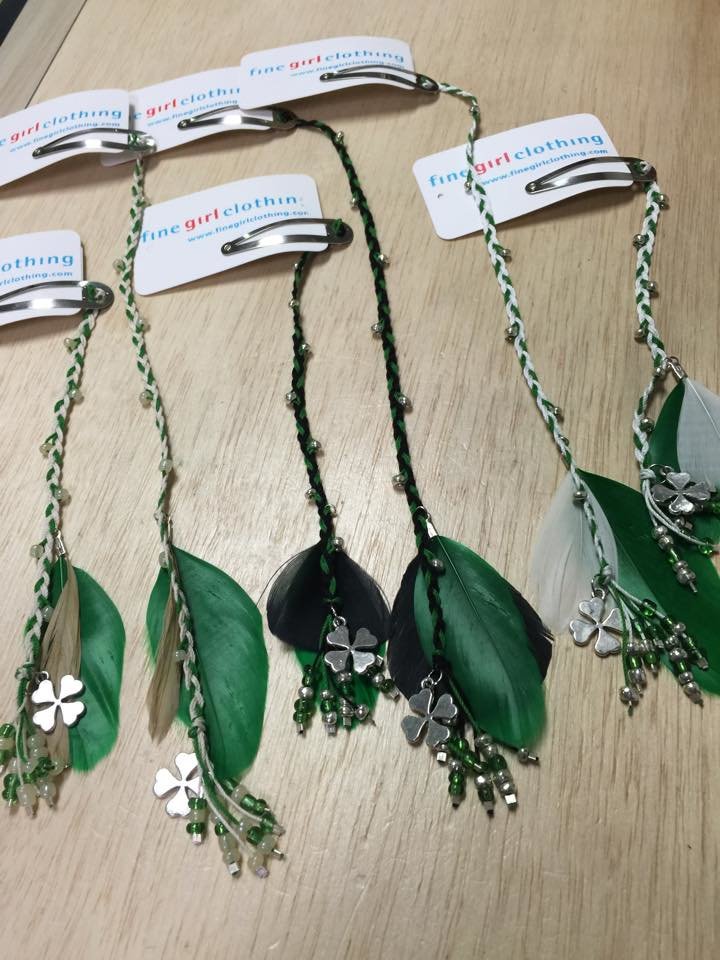 Just added these beauties to our handmade arsenal. The handmade braided hair clips have tan and green, white and green or black and green threads, coordinating beads, a black or green feather and a lucky four leaf clover!
February 20, 2015 ~ Our own labels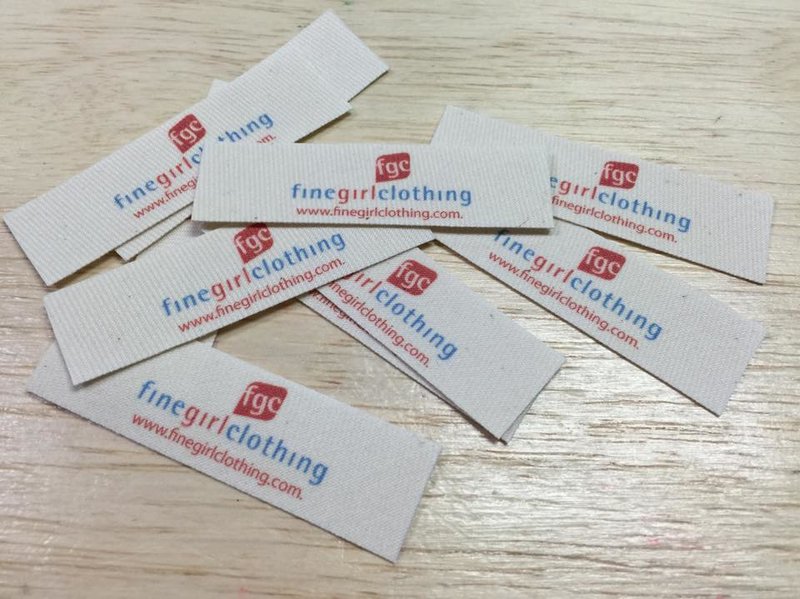 We make so many handmade items we want to be professional too! Just arrived, these little beauties will now be attached on all Fine Girl Clothing creations!
January 20, 2015 ~ A joint venture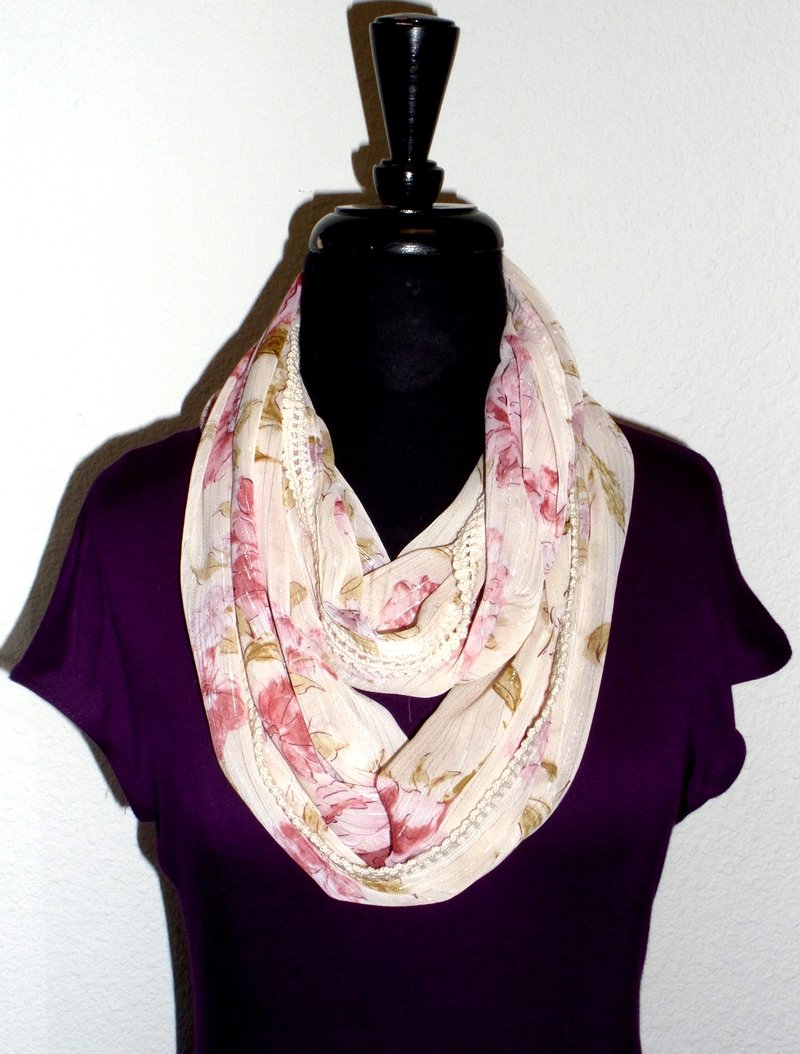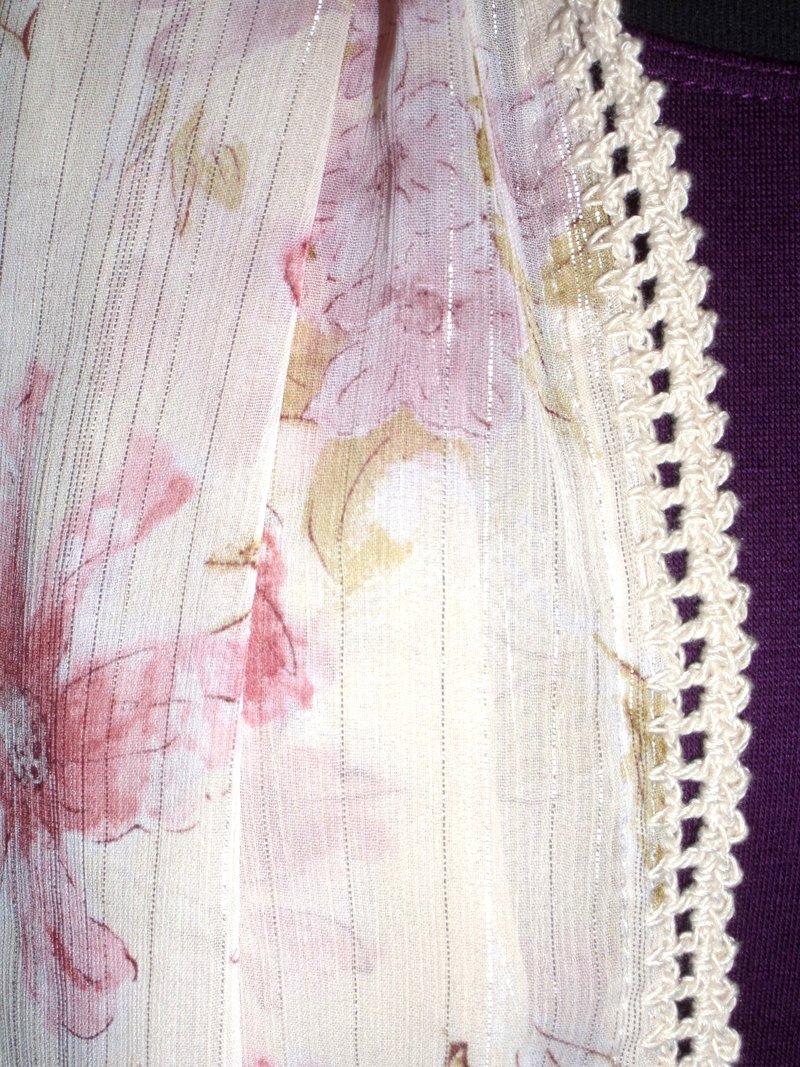 At Fine Girl Clothing we carry many local handmade items. But we also hand make items in the store. This particular scarf was handmade by both! Fine Girl Clothing found this gorgeous vintage floral chiffon fabric. It made a beautiful infinity scarf but we just couldn't stop there. We then handed it over to OOAK by Yvette. She makes amazing one of a kind crochet apparel. You can check out her amazing crochet summer tops. She added this beautiful hand crocheted trim to the scarf. We think it turn out just exquisite! One lucky customer now enjoys this amazing accessory.
December 30, 2014 ~ My distress is gone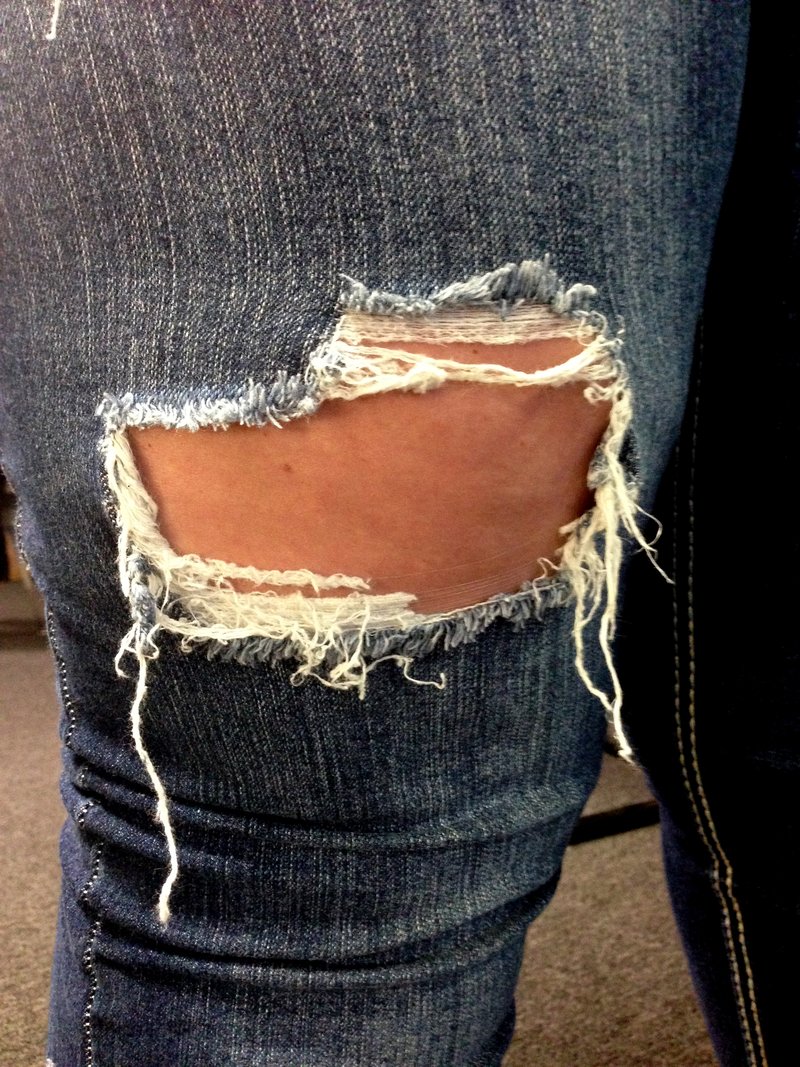 BEFORE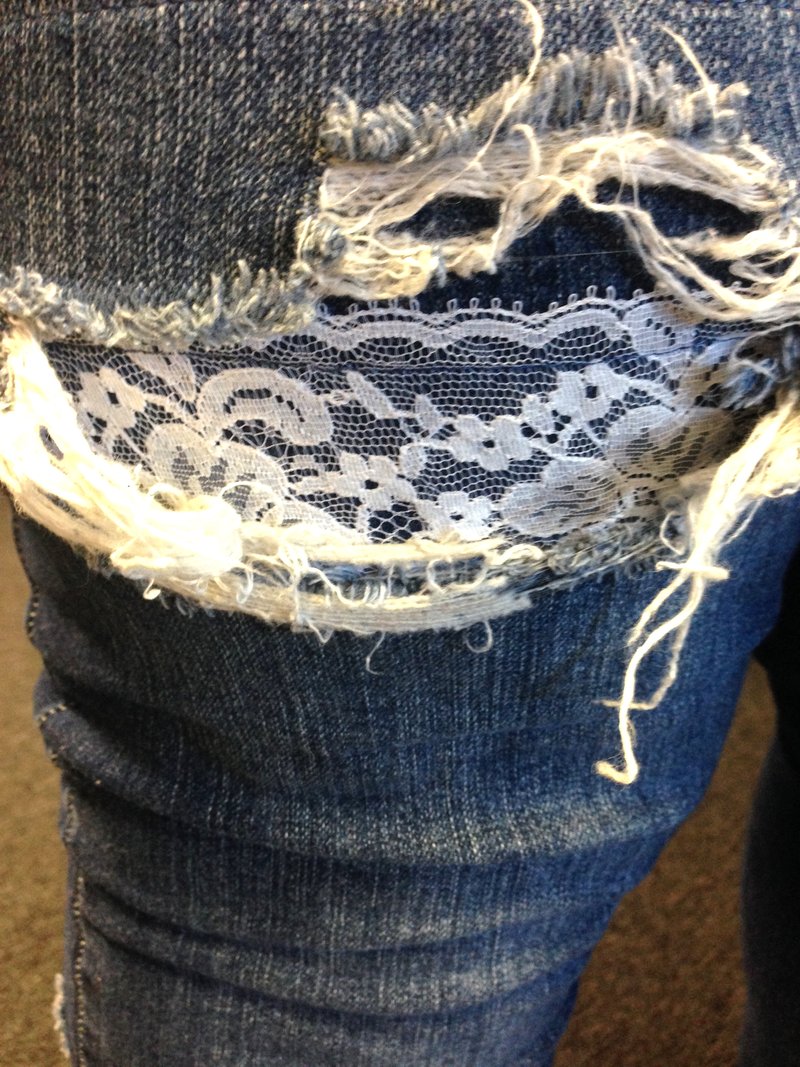 AFTER

Distressed denim is all the rage but what happens with the distressing finally breaks? Your left with jeans and a giant hole. This customer likes lace so we sewed a lace panel onto a denim patch and attached it to the inside of the pant. Now she can wear her pants again with adorable lace detail!
October 29, 2014 ~ Halloween is only 2 days away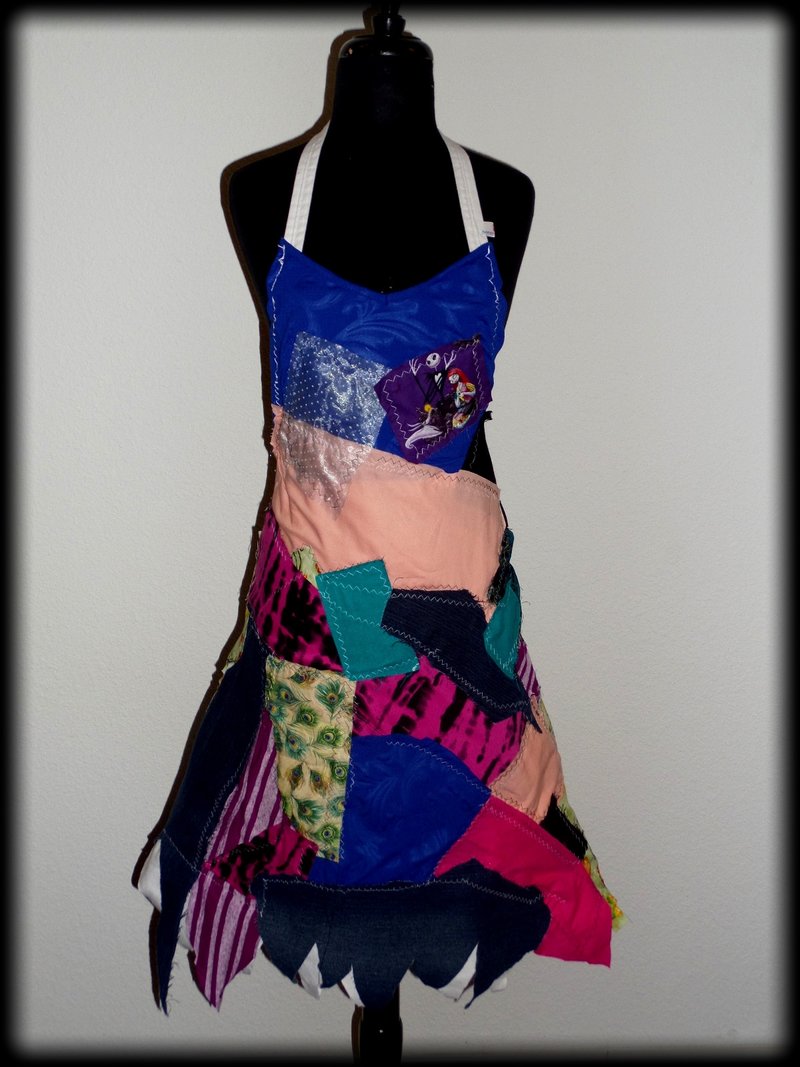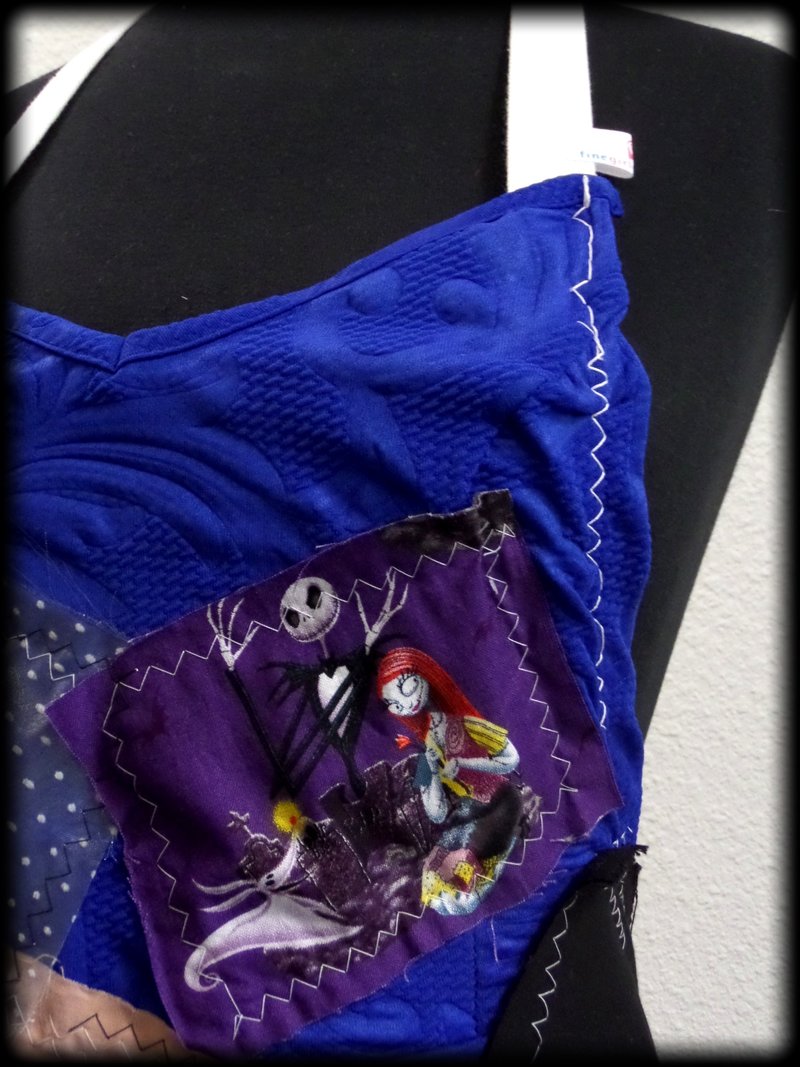 NIGHTMARE BEFORE CHRISTMAS APRON

"Halloween is only 2 days away and my work is having a costume contest I need help" This customer worked in a produce department at a grocery store. She is required to wear and apron and didn't want to loose the feel of a costume by covering it with an apron. So we made the apron a costume! All fabric used is scraps from repairs for others. Turned into a really cute Sally costume from Nightmare Before Christmas. I even found her a little patch of Sally and Jack to add the extra touch of detail.
October 8, 2014 ~ Oops I ripped my pants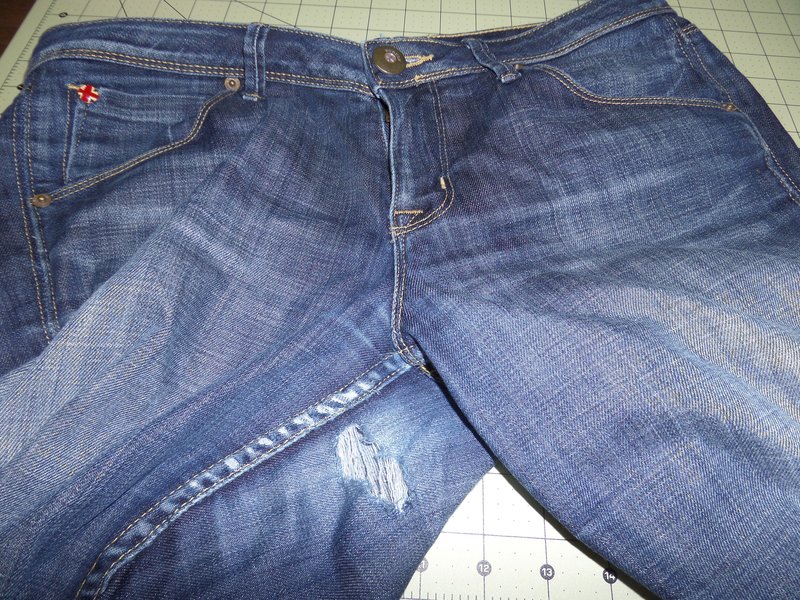 BEFORE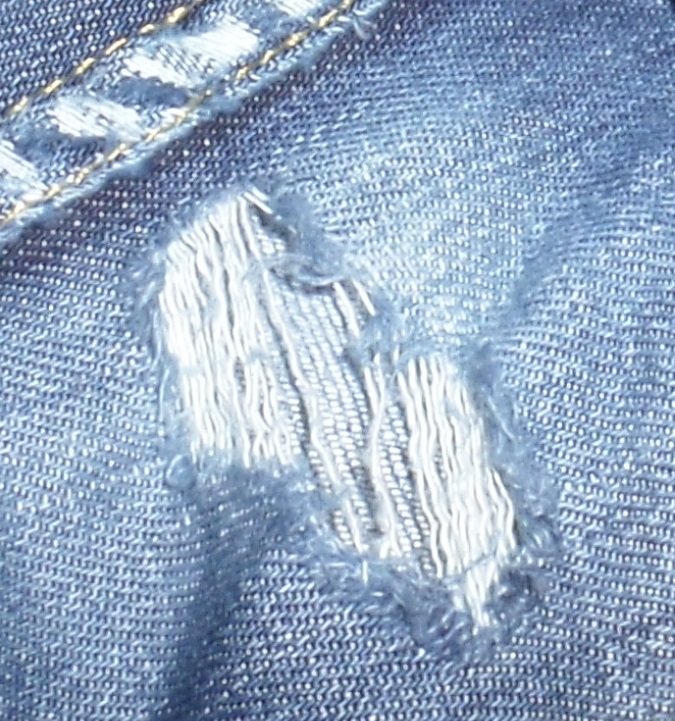 BEFORE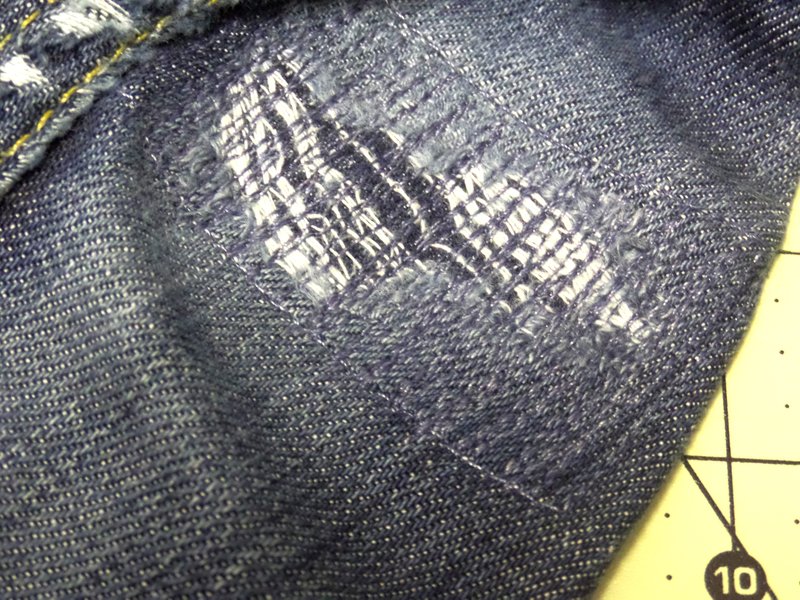 AFTER

Don't you hate when this happens! A pair of jeans you love to wear over and over. So much so that the pants have worn a hole right through. We constantly repair this damage as us girls love our jeans! We used a scrap piece of denim and attached it to the inside and sew line after line to catch the frays and make the pant more sturdy in that area. This pair can now be worn again and again!
September 27, 2014 ~ Boxers with a pocket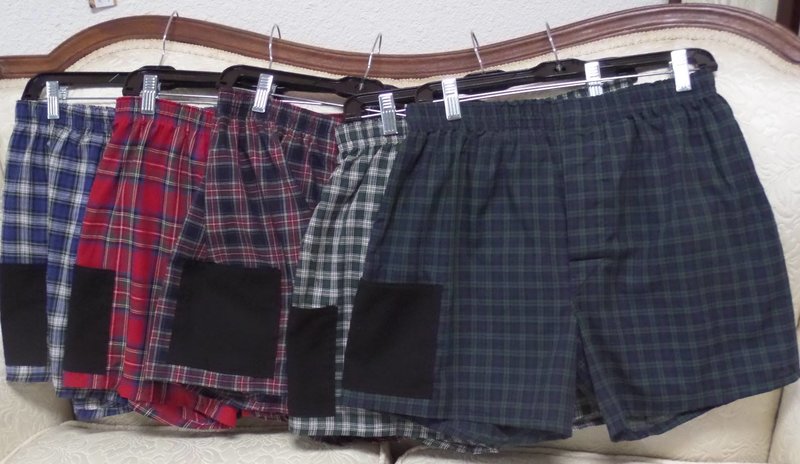 It was all about the husband for this request. He prefers to wear his boxers while lounging around the house. He expressed to her "How cool would it be if boxers had a pocket?" So, wife came into Fine Girl Clothing with 5 brand new pairs of boxers. We added a cargo style pocket to the right side of each pair. The husband was so excited to get what he wanted for his birthday!
September 20, 2014 ~ Adult Mini Mouse Skirt
BEFORE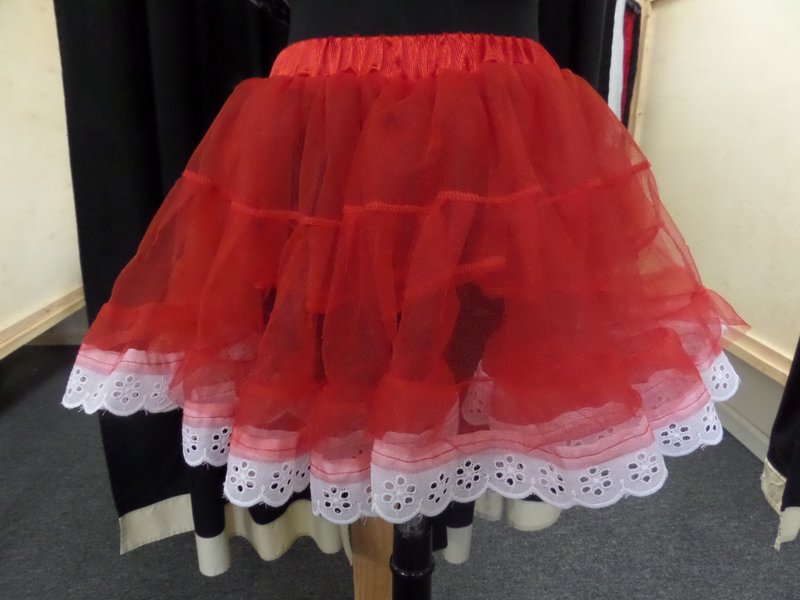 DURING
AFTER

This customer LOVES Disneyland and Halloween. She purchased this red tutu separately and asked for some creative imagination to make her a Minnie Mouse Skirt. The skirt was too short for her so we added this eyelet lace to the entire bottom. Then for polka dots we added these big white buttons. We only put the buttons on the front so the skirt would not be uncomfortable while sitting. She loved the additions and proudly wore her skirt to Disneyland!
September 16, 2014 ~ Halloween Apron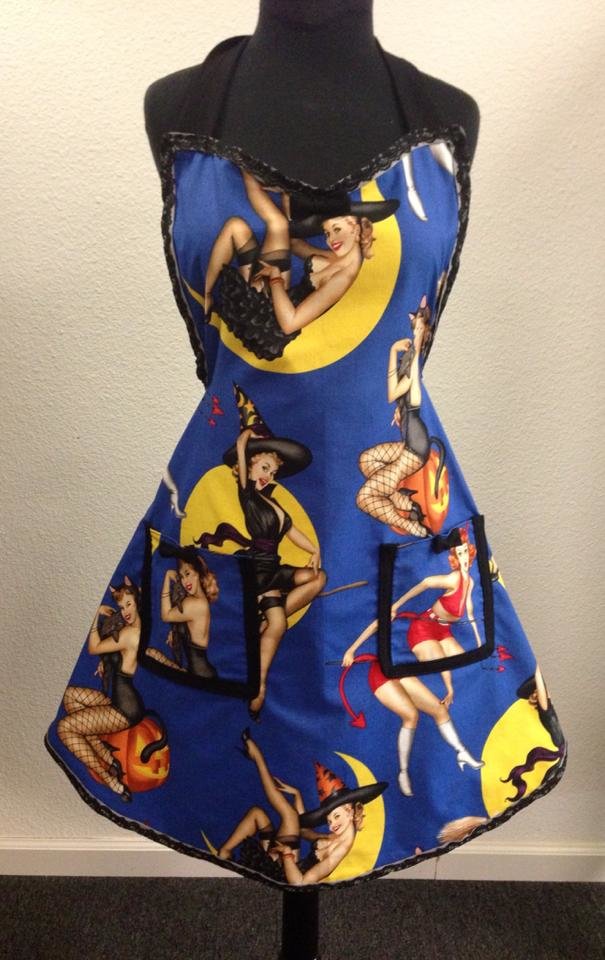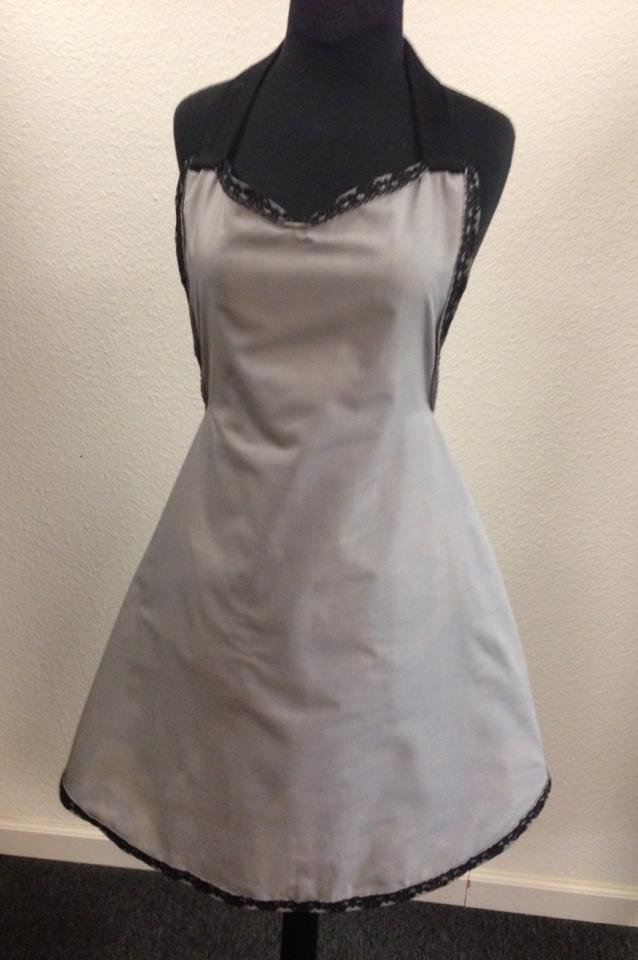 As the owner of Fine Girl Clothing I LOVE Halloween and Vintage Pin-Up. This apron was inspired but such love. It took 4 days to complete. It featured a pin-up Halloween print on one side with pockets and bow details. The reverse side was a solid gray fabric. The trim took the most amount of time as I made the bias tape then sewed lace to the bias tape then used it to trim the entire apron. It was a fun project and one lucky customer who loves Halloween like I do now enjoys this piece in her house.
July 8, 2014 ~ Sorry I burned your shirt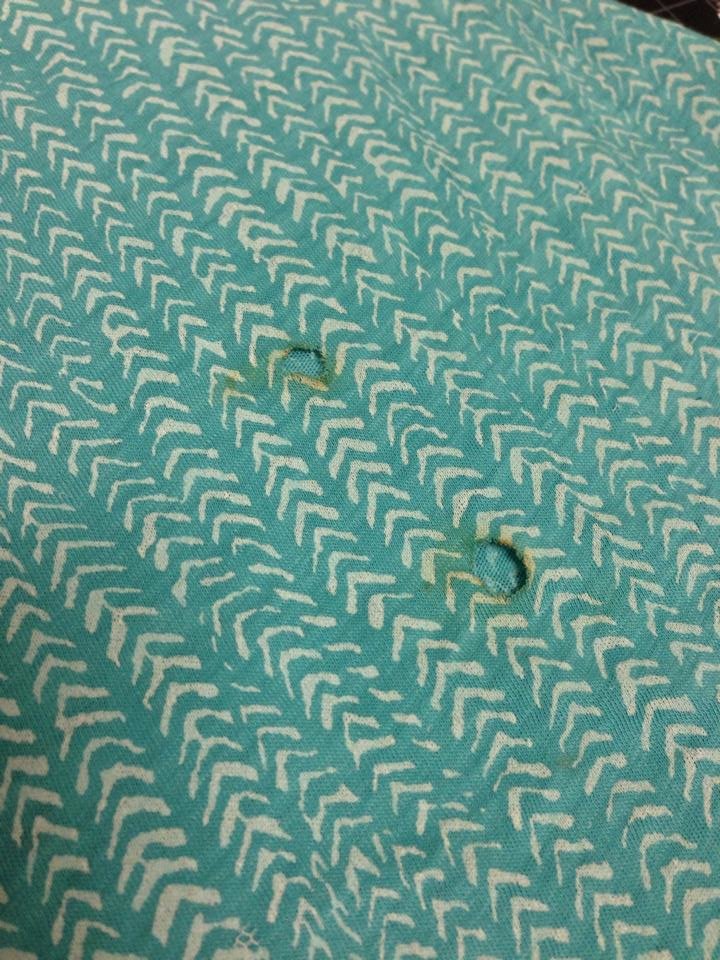 BEFORE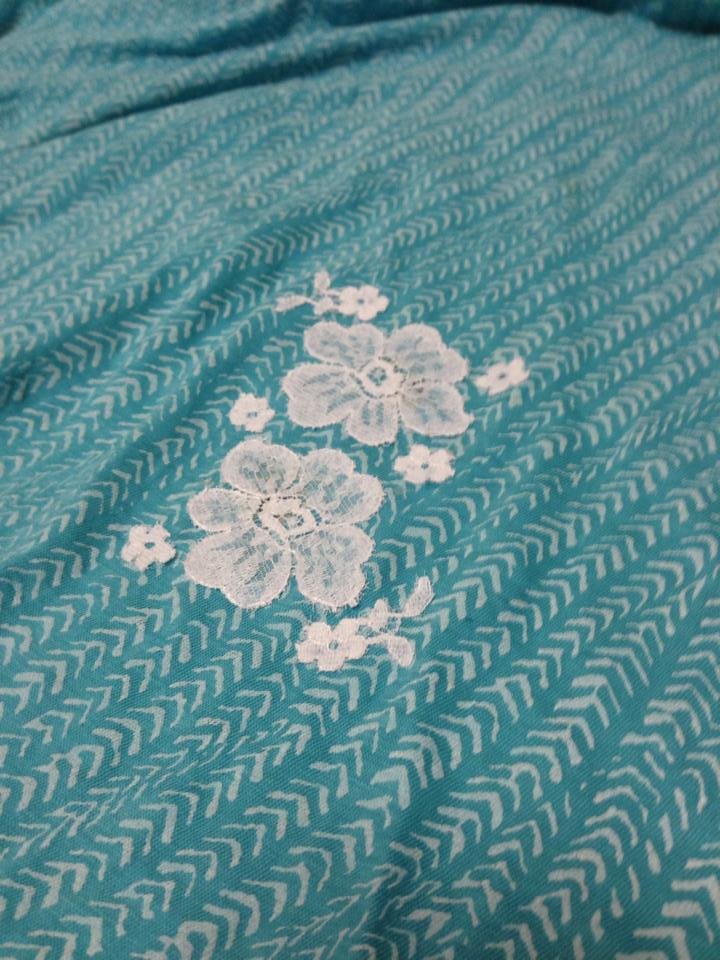 AFTER

The customer LOVED this shirt. She explained how comfortable and flowy it is. On her birthday, she wore her favorite shirt. One of her very good friends sitting next to her smoking accidentally burned 2 holes in the shirt with a cigarette. She was devastated. She brought it to us for some creative power! We cut out these flower pieces from a lace panel and used fabric glue to adhere to the fabric. She can now wear her favorite shirt and she even loves it more than before!